King Koil® ViGUARD, the first Mattress & Pillow Protector with Anti-Bacterial and Virus Activity Reduction Technology in Indonesia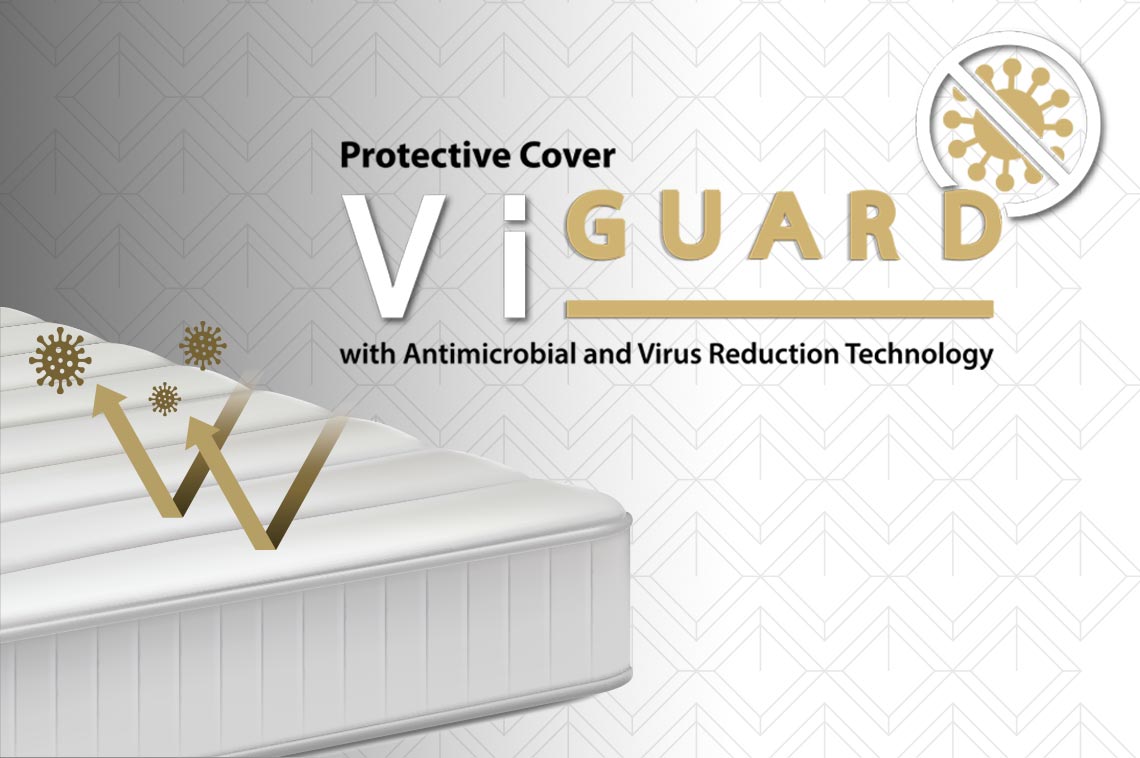 The development of consumer needs in the New Normal phase during this time of the pandemic, which requires any products to be hygienic and clean without reducing their quality, contributes to the development of mattress technology in the world, including the rapid improvement of many bedding accessories technology.
As we all aware, the hospitality business is one of the few sectors that is majorly affected by the pandemic. This business must provide the best service to hotel guests who stay in their hotel room. Mattress is the most crucial component in the hotel business and King Koil® is well aware of the New Normal needs of this business, and King Koil® brings their innovation and technology to manufacture safe and hygienic products for its hotel partners so that hotel guests can stay comfortably and worriless.
After going through in-depth research, PT. Duta Abadi Primantara (DAP), through its TECHNOLOGICAL INNOVATION, become the FIRST company in Indonesia to present the King Koil® ViGUARD, THE FIRST MATTRESS & PILLOW PROTECTOR WITH ANTI-BACTERIAL AND VIRUS ACTIVITY REDUCTION TECHNOLOGY IN INDONESIA. The King Koil ViGuard is the mattress & pillow protective cover with the main Anti-Bacterial feature that is effective against bacteria up to 98% in the first 1 hour of use* and Virus Reduction Technology that significantly reduces several types of viruses activities such as the SARS-Cov-2 Virus up to 97% in the first 2 hours of use*.
Anthony Setiawan, the President Director of PT. Duta Abadi Primantara stated that "The Hospitality Business in Indonesia is a promising business and will continue to grow in our homeland. Due to the presence of the pandemic, DAP will continue to assist the hotel industry to keep running well and safely for many hotel employees & guests, one of which is by presenting the innovation of King Koil® ViGUARD. DAP acknowledges the importance of developing a healthy and hygienic environment for your guests, and preventing the virus spread on textiles is one of many precautions that must be taken"
King Koil® innovates with the new standards of hygienic and sterile bedding products. King Koil® ViGUARD is the first mattress and pillow protector to reduce virus activities in your bedding products. Created with BI-OME AV, a combination of Anti-Microbial and Virus Reduction technology that effectively reduces bacterial & viral activity on the surface of bedding products, the King Koil® ViGUARD helps creating a clean, healthy & hygienic sleeping environment. King Koil® ViGUARD protective cover consists of 2 types of products: Mattress Protector & Pillow Protector, which are also equipped with other protective treatment including Water & Stain Repellent, Anti-Fungus, Anti-Dust Mite, Fire Retardant. Each of the finished bedding products will then have to go through the UV Sterilization process to provide full protection and create a more hygienic and cleaner sleeping environment for you to sleep on.
About King Koil
In 1898, Samuel Bronstein built a US Bedding mattress factory in St. Louis. Paul, Minnesota. The quality and innovation of good mattresses continue to make US Bedding grow rapidly, until the birth of King Koil®. For more than a century, King Koil® has continued to perfect the art of designing the best mattresses for the comfort of your sleep. Through rigorous and continuous efforts, King Koil® continues to improve the quality of mattresses to be recognized as a standard of comfort throughout the world. Unparalleled resting experience has become our specialty and King Koil® continues to achieve the highest standards in every aspect. To date, King Koil® mattresses can be found in more than 90 countries around the world with a main office based in Chicago, Illinois. King Koil® Indonesia was founded in 1996 and since its inception has been a leading and high-quality mattress manufacturer in Indonesia. As one of the largest mattress manufacturers in the world and the only mattress authorized by ICA (Chiropractic Agency worldwide), King Koil® designs each mattress to suit your specific needs.
In Indonesia, King Koil® has become the top choice for the best quality and luxury sleep. King Koil® has been selected 2 times in a row as the highest quality mattress based on a survey conducted by Frontier Consulting in 15 major cities in Indonesia with 12,000 respondents in 2018 and 2019. This proves that through long history and experience, King Koil® has succeeded in becoming a trusted brand that is committed to provide the best sleeping experience through its various products.
About PT Duta Abadi Primantara
PT. Duta Abadi Primantara was founded in 1990. With a comprehensive distribution in Indonesia, covering the islands of Java, Sumatra, Sulawesi, Bali, NTT, Kalimantan, PT Duta Abadi Primantara continues to grow. For more than 20 years, PT Duta Abadi Primantara, which has collaborated with more than 1000 dealers, serves the Indonesian market with the ever increasing need for mattresses in line with economic development, coupled with the need for hospitality throughout Indonesia and abroad. In 2008, PT Duta Abadi Primantara was given full trust by King Koil® Licensing Company Inc. USA to hold forever licenses for the King Koil® brand in Indonesia. Besides King Koil®, PT. Duta Abadi Primantara also oversees several other mattress brands such as Serta®, Florence® and Tempur®. In 2012, PT. Duta Abadi Primantara is once again trusted by Serta® Inc. USA to hold the exclusive license for 100 years. DAP re-innovate in 2017 by making a bed in the box, Simply®, which can only be ordered through e-commerce. Simply® is designed with many best materials such as HD Ultra Flex and it is the first express bed in Indonesia, providing convenience for ordering, shipping and installation. In 2019 Ogawa International, which is the best manufacturer of medical devices and massage chairs in the world, appointed DAP to be its sole distributor in Indonesia. Many social activities such as donating mattresses for the poor and disaster victims, through its CSR programs, have also been carried out regularly by PT. Duta Abadi Primantara.